Have you ever needed something but there wasn't a name for it yet? You wonder what terms to use when searching for it online and ask friends/family if such a thing exists at all. Or, you're an entrepreneur and you created a thing or a service and it needs a brand, an identity and it needs a benchmark so people can interpret its 'kind'.
For example, working with MOT2U, confirms my thinking that a company's identity is as much dependent on others' interpretation of it as it depends on how the MOT2U people themselves define it. So, the idea started with me needing to get my car checked (compulsory by law in the UK). A friend then offered to come and pick it up, get it 'MOT-ed' and bring it back. Not only did this allow me to just get on with my day but it also felt that my car was in good hands as he'd be better at negotiating what needed to be fixed for what price than me. Brilliant!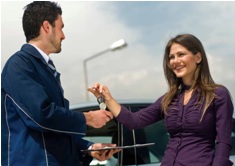 So the concept was born but what is it called? Car broker? Car consultant? Car guru?
Since its launch in 2008, MOT2U has developed and grown. It has asked experts but also the average person how they perceive the company. Many loved the idea. Some thought it's a 'posh garage'. Others were not sure of the colours (black and red). At the moment the company hovers on its own cloud, without a clear benchmark: Is it more Ocado than Tesco (therefore actually level with Sainsbury's – Try something new today…)?
Although people from individualistic countries argue that they're independent thinkers, with a strong sense of agency, savvy marketeers know that humans like to belong. So, a company creates an identity but it needs an anchor because people like to categorise themselves and others to make sense of the world. Some brands transcend these categories (Colegate toothpaste? Fairy washing-up liquid?), some brands are confused or in denial (British Airways, Burberry, BP) and others hover on their label-less cloud, yet to be identified.
Just as a leader is a leader when she/he is perceived as such by followers, we live in a time where tweeting followers create a culture via social media and decide whether a brand is hot or not. But not all things commercial are about short-term trends.
MOT2U is a useful service that gives peace of mind. It functions a bit like your dentist, who texts you that you're due for a check up. Or like your mortgage broker, who is in the know of all the different products on the market and doesn't represent one specific lender. You may not follow your dentist or broker on Twitter or Facebook for gimmicky updates but see it as a reliable relation and you're in it for the long haul – from your first Fiat to your fancy (recycled) Ferrari. As their next TV ad, I'm thinking Colin Firth throwing keys to an MOT2U chauffeur wearing the company's logo in green…